News From Black Dog Vintage Racing
The people that put on the Rock Island Grand Prix invited the vintage karting crowd to participate in their massive event. The Rock Island Grand Prix is the worlds largest and most prestigious karting street race.
They were very accommodating to us! We were given a great area to show the karts and was less than a block from an entrance to the track. We were allowed to do a practice run and also a demo heat race. It was a BLAST to run on a street race course! I should have known better than to say that Dottie's normally bullet proof Simplex was running so well. It then proceeded to break a chain and blow the centers out of both clutches. This was then followed by the ignition failing on the Fox.

No matter what went wrong, we look at it as a great day, because we were able to burn fuel at a street race and the Simplex got it's picture in a kart magazine, From Italy !!!!!!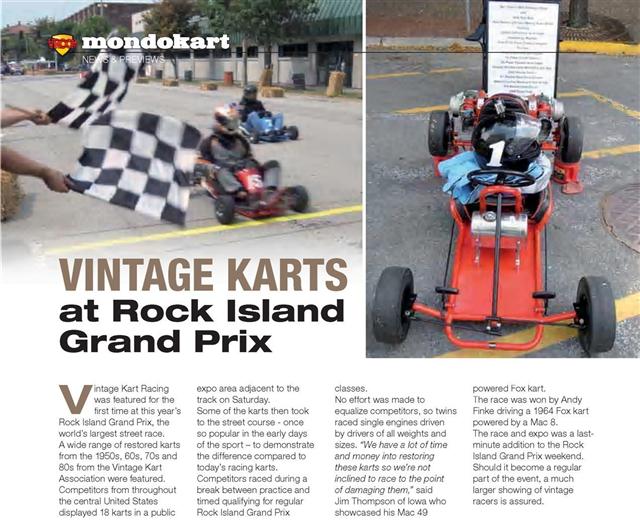 Article courtesy of Vroom Magazine (November 2011) Italy.
Breaking News
Vintage karts have been invited back to the Rock Island Grand Prix for 2012!
(Details will be posted when they become available.)
Black Dog Vintage Racing is thinking about expanding its product line!

We would like your input and want to offer:

Work aprons made with a jean ALSO White painters style pants with your choice of stripe color down the outside leg seam.